Date/Time November 19 - 21, 2021, 12:00 am -
Status: Active
Pow Wow Size:-------
Location Cibolo Multi-Event Center: 258 South Main Street, Cibolo, TX
Contact Information
Contact: Dana Medina
Phone: (405) 441-7066
Email: [email protected]
Website:
Head Man: J. R. Lonelodge
Head Lady: Amber McDaniel-Komacheet
MC: Al Santos & Larry Liles
Host Drums: Northern Drum: Young Buffalo Horse; Southern Drum: Cozad Singers
Other Drums:
Additional Information:
Pow Wow Info
Cibolo Multi-Event Center, TX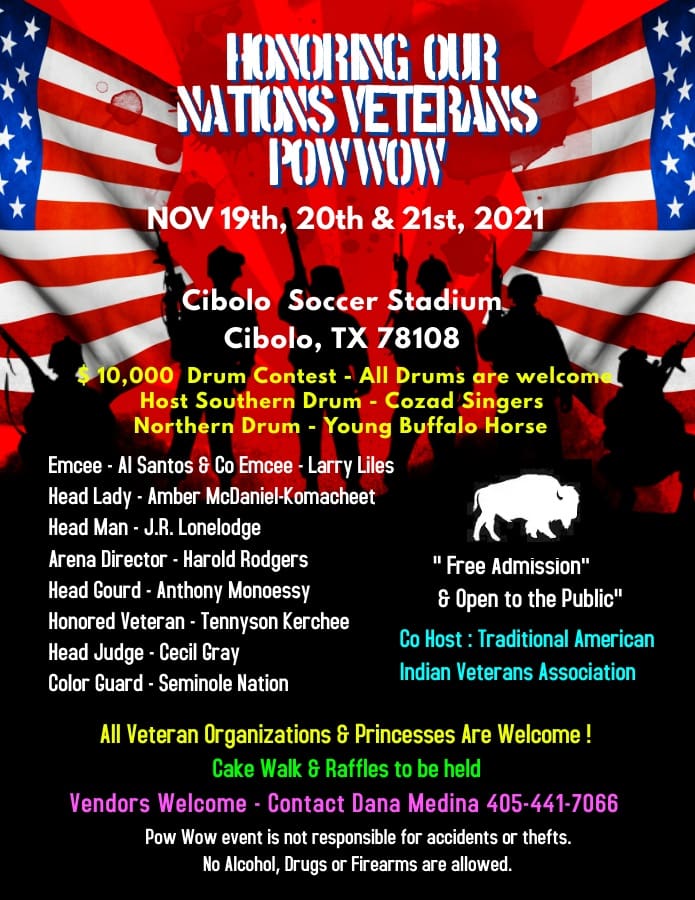 November 19, 20, 21, 2021
Come join us in Cibolo, Texas!
Free Admission and Open to the Public.
All Veteran Organization & Princesses are Welcome!
Vendor's, contact Dana Medina at 405-441-7366
The largest 3 day Pow Wow event held in Texas.
This pow wow is Honoring All Veterans Past & Present.
Over 50 invited vendors.
$10,000 Drum Contest all drums welcome!
Location Map