Pow Wows in Iowa | Iowa Pow Wow Calendar

The Iowa Pow Wow Calendar has all the details you need to plan your next trip. Our Native American event calendar is provided to you by PowWows.com. Check back often for updated
powwow
information. We add and edit details of events every day. Please be sure to check with the committee for the event for specific details.
Pow Wow Information
Find a Pow Wow Near You!
There are thousands of Pow Wows held across North American.  They are held in all 50 states and all Canadian provinces.  You can find a Pow Wow somewhere close to you!
---
Pow Wows in Iowa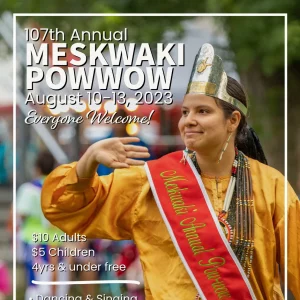 Aug 10 - Aug 13, 2023 - Tama IA
August 10-13, 2023 Everyone Welcome! Admission: $10 Adults; $5 Children; 4yrs & under free Dancing & Singing; Native Arts & Crafts; History Exhibit; Food &...
---
Apr 23 - Sioux City IA
April 23, 2022 Celebrating the Return of the Thunders/ New Years. Traditional pow wow with specials in many categories. Free admission along with meal at...
---
Search by Month and Year or/and State
Search the US & Canada