(Postponed until Aug 2020) Susanville 11th Annual Powwow
Notice - This information is for a past Pow Wow.
August 21, 2020 - August 23, 2020
Susanville, CA
14213 Views
Status: Active
---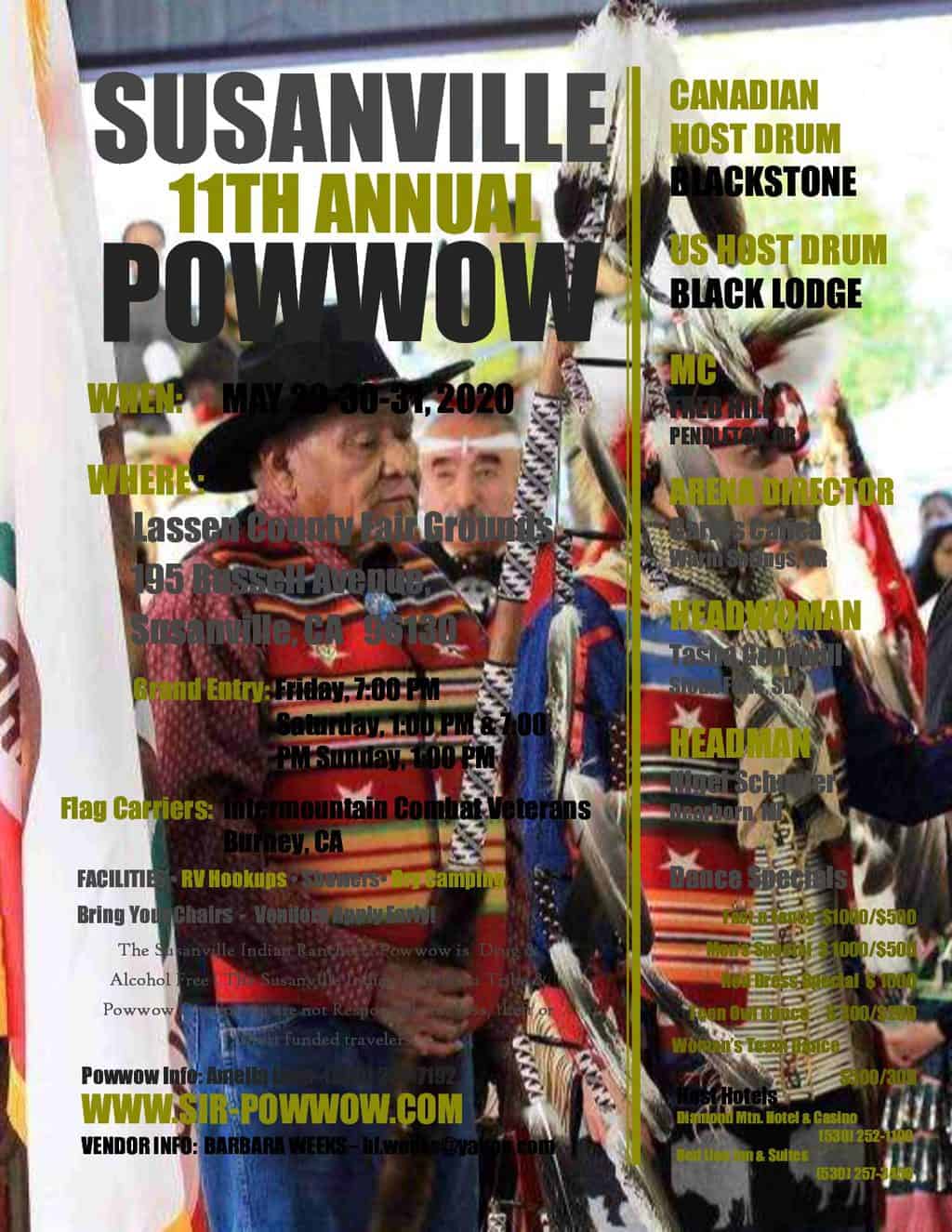 Pow Wow Information
Details
Date: August 21, 2020 - August 23, 2020
Location:
Lassen County Fairgrounds: 195 Russell Ave., Susanville, CA
Pow Wow Size:-------
14214 Views
---
---
We have decided to tentatively reschedule the 2020 Pow Wow originally scheduled for May 29, 30, & 31, 2020 in Susanville, CA to August 21, 22, & 23, 2020. All rooms have been cancelled. If you plan on attending in August, please contact the Diamond Mountain Casino Hotel at 530-252-1100 or the Red Lion Hotel at 530-257-3450 to make new reservations.
We are hopeful the Stay at Home order is lifted by August and we can gather together to honor our Elders and Veterans. If the Stay at Home order is not lifted at that time, we will cancel the 2020 Pow Wow.
Thank you for your continued support of the Susanville Pow Wow. We wish for good health and safety for you and your families.
Dance Specials:
Fast & Fancy $ 1,000/$500
Men's Special $ 1,000/$500
Red Dress Special $ 1,000
Teen Owl Dance $ 300/$200
Woman's Team Dance $ 500/$300
Flag Carriers: Intermountain Combat Veterans –Burney, CA
See Flyer for more info or go to www.sir-powwow.com
Vendors Apply Now! Contact Barbara Weeks at [email protected]
Visit www.sir-powwow.com for more information or contact Amelia Luna at 530-249-7192
Venue:
Lassen County Fairgrounds: 195 Russell Ave., Susanville, CA
Weather
Submitted by PowWow Calendar on: May 25, 2020