June 16, 2023 - June 18, 2023
Iowa Tribe of Oklahoma
335588 East 750 Road, Perkins, OK, 74059
---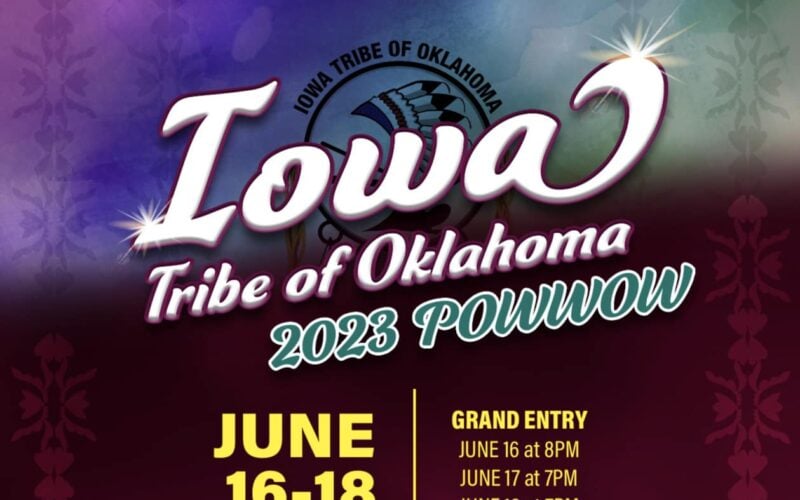 June 16-18, 2023
GRAND ENTRY:
June 16 at 8PM
June 17 at 7PM
June 18 at 7PM
Mourners Meal – June 14 at 6:30PM Chena Building
Supper to be served on Saturday
All adult contesters must make 2 Grand Entries
Emcees: RG Harris & John Arkeketa
Head Singer: Robert Tehauno
Head Man: TJ Tanyan
Head Lady: Michelle Pewewardy
Head Gourd: Ed Yellowfish
Arena Directors: Jeff McClellan & Amos Littlecrow
Outgoing Princess: Madison Switch-Fixico
Incoming Princess: Cyrus Tehauno-Switch
Honored Elders: Francis Deer Jr. & Judith Shores Carson
Color Guard: Seminole Honor Guard
Cooks: Raynetta (Gawhega James & Family)
Vendors Contact: Kent Tehauno 405-788-9990
Pow Wow Committee: Hinglu Huber (405-780-3869), Leslie Tanyan (405-245-9953), Kent Tehauno (405-788-9990), and Greg "Hoagie" Miller (918-873-7058)
Status: Active

---
Pow Wow Information
Details
Date: June 16, 2023 - June 18, 2023
Location:
Iowa Tribe of Oklahoma
335588 East 750 Road, Perkins, OK, 74059
Pow Wow Size:-------
5924 Views
Total Views: 5925 Views
Organizer:
Contact:
Phone:
Email:
Visit Organizer Website »
More Information:
Head Man: TJ Tanyan
Head Lady: Michelle Pewewardy
Head Gourd Dancer:Ed Yellowfish
MC: RG Harris & John Arkeketa
Arena Director: Jeff McClellan & Amos Littlecrow
Host Drums: Head Singer: Robert Tehauno
Additional Information:
Venue:
Iowa Tribe of Oklahoma
335588 East 750 Road, Perkins, OK, 74059
Submitted by Kelli Gowder on: April 20, 2023
Disclaimer: The information on our calendar is updated often with the latest information available. We use multiple sources to get the best information possible. Please check and verify information before traveling to an event.
---
---
---
Pow Wow Last Update: April 20, 2023